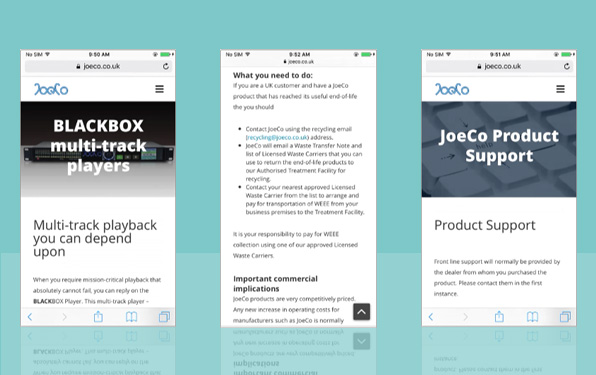 JoeCo CMS Website
Back in 2010, M J Webb Associates created, from scratch, a hand-built, hard-coded HTML website to promote the brand new business JoeCo. But eventually the code began to show its age and JoeCo requested that we build them a brand new site.
This new website would:
(A) use a database driven CMS at its core, so that JoeCo staff themselves could perform minor updates and amends. (B) employ a 'responsive' new up-to-date theme, so that the site was easily accessible on mobile devices. (C) have an inbuilt blog, so that JoeCo staff could promote their "latest news".
At the same time, the site's actual content was updated to be less text-heavy (bogged down in techno-jargon) and bring some breathing room into the previous layout, that had started to get too busy with the amount of reading involved.
Website Design and Build
JoeCo Ltd.